How to Achieve iPod Recovery

As the most popular and fashionable music player in the world, iPod makes most of us get crazy for it. iPod is a line of portable media players created and marketed by Apple Inc. The product line-up currently consists of the hard drive-based iPod Classic, the touchscreen iPod Touch, the compact iPod Nano, and the ultra-compact iPod Shuffle. iPod Classic models store media on an internal hard drive, while all other models use flash memory to enable their smaller size (the discontinued Mini used a Micro drive miniature hard drive). Like many other digital music players, iPods can also serve as external data storage devices. Storage capacity varies by model, ranging from 2 GB for the iPod Shuffle to 160 GB for the iPod Classic. The iPod line was announced by Apple on October 23, 2001, and released on November 10, 2001. All of the models have been redesigned multiple times since their introduction.
Reasons of iPod Data loss
There is no doubt that iPod's high quality crystal clear sound quality, stylish range and amazing facility to store variety of media files has managed to revolutionize the music world. But it also cannot deny from the probability of corruption. You may lose your data from iPod, including audio files, video files and images. The main reasons of the data loss are listed as follows.
1. Virus infection while your iPod connects to a computer which is infected with virus.
2. Human error/wrong operation.
3. Improper drive removal.
4. Formatted and crashed iPod media.
5. Hardware malfunction/Physics damage.
Certainly, no application is free from bugs and so is the iPod. However, if you have lost your data from iPod accidentally or due to some foreign elements, you can recover iPod easily by using third-party iPod recovery software.
Achieve iPod Recovery Successfully
As a high reputation and well-known iPod recovery tool, uFlysoft iPod Music Recovery can help you to get back your lost data from you iPod. All you need is following the steps below.
1. Download the latest version of uFlysoft iPod Recovery and install the program on your Windows computer.
2. Once you have installed it, connect your iPod to your computer. If possible, try and use a USB2 connection on your computer as USB1 is very slow. If your iPod does not appear as a drive letter on your computer you must do the following: In the iTunes program, right click on your iPod and select "iPod Options". Under the "iPod" tab, place a tick in the box for "Enable Disk Use". Click OK. Disconnect your iPod, and then reconnect. Check to see now that your iPod is displayed as a drive letter.
3. Launch uFlysoft iPod Data Recovery, choose your iPod, click the "Scan" button and wait a few minutes.
4. After scanning finish, click the "Recover" button, then a dialogue box will pop up for you to select a destination to save the recoverable data.
When you finish all of these, your iPod's data is recovered. It's the easiest way to recover data from iPod.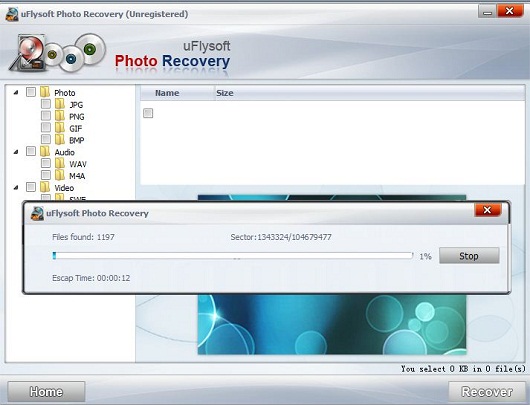 Tip:
If you are a Mac user, you can download the uFlysoft Data Recovery for Mac, the powerful data recovery software which enables you to recover movies, photos, music for your Mac.
Related Articles:
How to Do Image Recovery Easily?
How to Recover Deleted Music Files?
How to Achieve XD Card Recovery?
How to Perform MMC Card Recovery?