Why uFlysoft Software is the Best Solution for Recovering Mac Lost Photo?

Up to 95% of lost photo can be recovered even after emptying Mac Trash. Recover files on Mac
In this digital age, people always store their precious memories with the digital photo on the hard drive or storage device. To be honestly, this brings us the convenience, but the problem comes at the same time: What if the photos were deleted from your Mac hard drive? If lucky enough, you can restore lost photos in the Trash Bin. But what if the Trash Bin has been emptied or even worst the photos were deleted from the storage device, how to recover deleted photos? The normal way cannot help you to find back the lost photos. At this moment, a powerful software which can help you to get lost pictures back is strongly needed.
uFlysoft Mac Photo Recovery is the savior for your lost files. It is an all-in-one media file recovery tool, with its easy-to-use function and do-it-yourself operating option, no more technical skill are needed, only you know few clicks on your Mac, the lost files can be recovered easily in minutes.
Can I Recover Mac Lost Photo?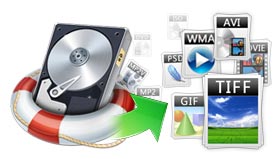 It's possible to recover deleted photos, and it is also possible to get video and audio files back. Moreover convenient, the media files can be recovered successfully even from most of the popular storage device like USB drive, Memory Card, External drive, Smart Phone, iPod, etc.
When the files were deleted, even the Mac Trash has been emptied, you may consider the files are gone forever and no ways to get them back. Actually it is not. In fact it just frees up the hard drive space for the new files, while its physical data stays on the hard drive just to be overwritten with time. So if you found your favorite photos are lost, stop any operation on your device, this action double the chance of restoring lost pictures.