uFlysoft Data Recovery - The Top Solution for Mac!

Up to 95% of lost files can be recovered even after emptying Mac Trash. Recover files on Mac
Nowadays, as science and technology are developing rapidly, the probability of data loss is gaining much higher than before. This situation may make your precious memories lose (such as you lose your photos); the worst thing is that the file loss may cause the serious economic loss from your company. Unfortunately, nearly 80% of computer users do not know the lost files can be recovered. "How to recover deleted files" may be the one of the most common problems asked by Mac users. If you are one of them, here I tell you the good news, actually the lost files can be recovered. With uFlysoft Data Rescye Software powerful scanning techniques, you can recover lost files no matter how you lose the files or what kind of disk you are using. Once the files can be detected, the operation for users to retrieve deleted files on Mac can be processed successfully.
Is It Possible to Recover Data from Mac?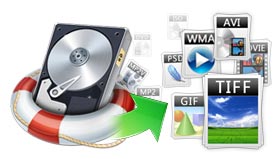 As a matter of fact, when you delete files from Mac or storage devices, the deleted files are not actually gone permanently-they are still saved in the drive or storage device which they were stored before. One thing different is those files space is marked as available for other new files to write over or occupy. So it is possible to recover lost files if you act quickly before the files are overwritten by the new one.
But the things you must pay attention, no matter the Mac or Windows OS you are using, they do not provide the option to recover the lost files on their own. Facing this situation, you may need the third-party software to deal with the difficult recovery operation.