Why uFlysoft Software is the Easiest but Efficient Photo Recovery Solution

Up to 95% of lost files can be recovered even after emptying Recycle Bin. Recover Mac Deleted Photos
In the modern society, the internal and external drives' price is becoming lower and lower, and the storage space is becoming bigger than before, at the same time, the ways for deleting a file is more convenient that before, Just like format or "delete all" operation. These ways actually great until something goes wrong: How can you get these files back is a big problem.
In general, the complicated principle of recovering lost files and cumbersome steps make most of computer users cannot find the ways to recover files by themselves. But different from other software, uFlysoft software simplifies complex steps of the recovery technology. All you need to do is just operate some clicks job, no matter what reasons make your files lose or what kind of drive/storage devices you are using, all of the lost files can be recovered by using this easy do-it-yourself software.
The Possibility of Lost Photo Reocvery.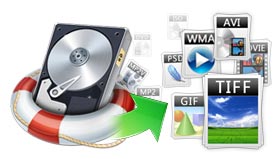 When you deleted or formatted a file from your computer or storage device, its physical data still remains on your devices until it is fully overwritten by other files. In the simple way, your files are still "alive" until you put something new in to your drive. So the sooner you act to do something for file recovery, the more chances you'll have for recovering files.
Therefore, if you are one of the unlucky guys who lost the photos, video or audio files, you'd better be very careful using the computer or storage device even stop using it to avoid the file overwritten situation we mentioned above. Moreover, because the computer do not offer the file recovery function by its own, a image rescue tool is strongly needed.