uFlysoft Data Recovery - Help to Recover Files from Emptied Mac Trash!

Up to 95% of lost files can be recovered even after emptying Mac Trash. Recover files on Mac
Perhaps you've ever met this situation: you thought the files were useless or the files took up a large amount of Mac hard disk space so you removed them to the Mac Trash. But one day you suddenly realize actually one of the deleted files is important and you need it right now. What will you do? First thing first you may go to check the Mac Trash, if lucky enough you can get files back from the Trash, but what if the Trash Bin has been emptied? Take it easy, solutions are more than problems! To recover your lost files from emptied trash, uFlysoft Mac data rescue software uses several powerful techniques for getting back lost files. The choice of which one to use is made easy - just few clicks of the "Scan" and "Recover" buttons, the software will run through all of the recovery options, one by one.
The Posibility to Recover Files after Emptying Mac Trash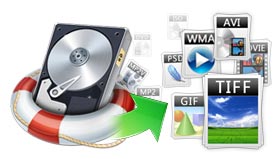 When we emptied Trash Bin (secure emptying is not included), what we deleted is actually not the file. You just lose the access of the file from the system. The space occupied by deleted files is marked as "available to reuse", so the deleted files remain physically intact on the drive until they are overwritten by other files. So th truth is: the files will be only deleted when you put any new files in to the drive to overwrite the original ones. So remember, if you want to successes in bringing back lost files from Mac, the first thing to do is to stop using your Mac to avoid file overwritten situation so that the chance of getting back lost data can be increased. The next step is to find a reliable program to help you a lot. If you don't have Time Machine backup, Just we mentioned above, uFlysoft Mac Data Recovery Software> is the great choice