How to Recover CF Card Data on Mac
A CompactFlash (CF) card is a popular memory card developed by SanDisk in 1994 that uses flash memory to store data on a very small card. A CompactFlash card makes data easy to add to a wide variety of computing devices, including digital cameras and music players, desktop computers, personal digital assistants (PDAs), digital audio recorders, and photo printers.
Based on the Personal Computer Memory Card International Association (PCMCIA) PC card specifications, CompactFlash measures 43 X 36 mm (about the size of a matchbook) and is available with storage capacities ranging up to 1 gigabyte (GB), with higher capacities corresponding to higher prices. CompactFlash is similar in size to the Smart Media card, but larger than the newer, postage stamp-sized alternatives, MultiMediaCard and Secure Digital (SD) card. There are two different types of CF cards, of different thicknesses (to accomodate different capacities): Type I CF cards are 3.3 mm thick, compared to 5.5 mm for Type II cards.
Because flash is nonvolatile memory, stored data is retained when a device's power source is turned off or lost. CF cards feature solid-state construction, which makes them much more rugged than most traditional storage devices.
But as a store device, sometimes it may face the data loss problems by mistakes no matter how high-tech it is. Here we pick out some main reasons of CF card data loss and find ways to recover CF card with ease.
Reasons of CF Card Data Loss
•Intentional Action
Intentional deletion of a file (Your little child may delete your data naughtily just for fun.)
•Unintentional Action
1. Accidental deletion of a file in your CF card
2. Physical damage by accident
3. Virus infection
4. Unknown reasons of deletion/formatting
5. Data corruption, maybe caused by shutting down with sudden while your machine is working.
Recover CF Card Data with Ease
After learning about the reasons of CF card data loss, let's start doing something to recover CF card data. Maybe you will ask, "The problems above seem too serious to solve, and can I really get back my data?" There is no doubt that you can completely recover your lost data from your card by using some third-party recovery software!
uFlysoft Photo Recovery for Mac is recommended all-in-one card data recovery software, which is famous for its high-performance and profession in the recovery software industry.So, without further ado, let's get start the journey of recovering.
First thing first, install this program on your Mac and connect your CF card to your Mac.
Secondly, launch the program. An easily understood dialog box will pop up and guide you to use it. You just need to choose your CF card and start scanning. The program will scan your card deeply to find your lost data.
Finally, click "Recover" after scanning finished. And you will find you get back your lost data successfully just in a few minutes.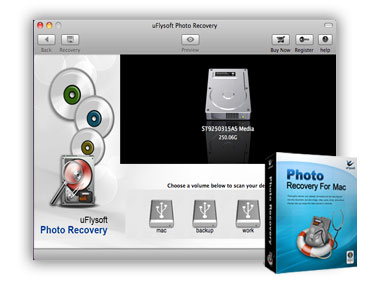 Tip:
Not only CF card, uFlysoft Photo Recovery for Mac can also help you to recover all kinds of media files (photos/video/audio) on your Mac or your store device. So just come and have a try on it!