Restore Lost Files from USB Drive with uFlysoft Data Recovery Software

Up to 95% of lost files can be recovered even after emptying Mac Trash. Recover files on Mac
As the popular storage device, USB drive is capable of storing lots of files such as videos, audios, photos, documents, etc. But every coin has two sides, USB drive is also a carrier that can cause file loss situation easily because of its portability-system corruption, system failure and virus attack are the main reason which can make file loss happen on USB drive. To you-the USB drive owner, any loss to these important files will definitely bring great troubles.
In this case, you can use data recovery tool to help you to recover lost files from your USB drive easily. uFlysoft USB Data Recovery Mac is just one of the software which can fix the USB drive file loss problem for you.
Why the Missing Files Can Be Restored?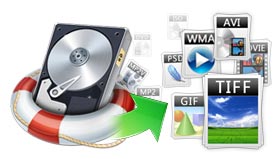 Usually, only one delete command, even worst, the accidentally deletion or formatting won't make files disappear completely from your USB drive. The files are still there just marked as free space to be overwritten. If you keep putting something new into it, the new files will take over the space where the lost files were stored. Once overwritten, it's impossible to recover lost files.
So the most important thing is here: stop using your USB drive at once because this can protect your original files from overwritten. So as is clear to us, as long as your lost files are not overwritten by new files, you can definitely achieve file rescue on the tiny piece of your machine.