uFlysoft Mac Data Recovery Software Help in Recovering Lost Partition Files

Up to 95% of lost files can be recovered even after emptying Mac Trash. Restore Mac Lost Data
It does happen that sometimes we lost the partitions or volumes on our Mac. You may find that you couldn't access to your Mac partitions, what's more worse, you'll find your important file has gone. This must cause the trouble because you may need the files for your work or business right now. What should you do now? The first thing first, don't use your Mac at all to avoid any wrongly operation which may lead to the worst result, after that, you need the troubleshooting to recover files for Mac partition.
To get lost partition files back, you need to get uFlysoft Data Recovery Software to deal with the partition lost situation. With its tremendous ability of scanning and recovering, recover lost partition is just a piece of cake for you.
What makes partition loss happen & why the partition recovery can be done?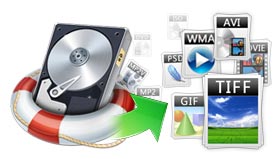 To tell you the truth, there are tons of reasons can make partition loss happen around, but here we bring you the common reasons here like:
1.) Hard drive crash
2.) Uncertain system shutdown
3.) Viral attacks, power surge
4.) Software corruption File system corruption, etc. No matter what reasons cause the partition loss situation, you may think it is difficult, even worse, cannot recover partition. Is that true? Absolutely NO!
Actually, lost partition, or lost data, can still be recovered. Although it seems that once it was lost, it had gone forever, but in deep in your hard drive, the lost data still exist there and there is a chance to get them back until the data is written over by the new data. So remember after any loss situation happen, stop putting anything new in to the disk which your lost data were stored before, this can make the chance of recovering Mac partition files become higher.