How to Reocver Lost Photos with uFlysoft Photo Recovery
Easy-to-use and user-friendly interfaces let you recover deleted photos at a great ease.
Please make sure you have downloaded uFlysoft Photo Recovery, which offers you a few simple clicks to deeply recover your lost Photos.
Clear and user-friendly main interface of uFlysoft Photo Recovery: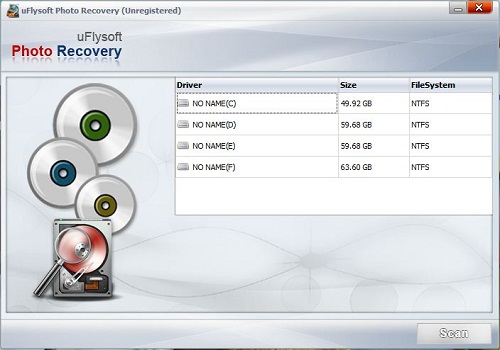 Step 1. Download uFlysoft Photo Recovery for free and lanuch uFlysoft.
Step 2. Select the hard disk where stored your lost files, and then click 'Scan' to start scanning for files.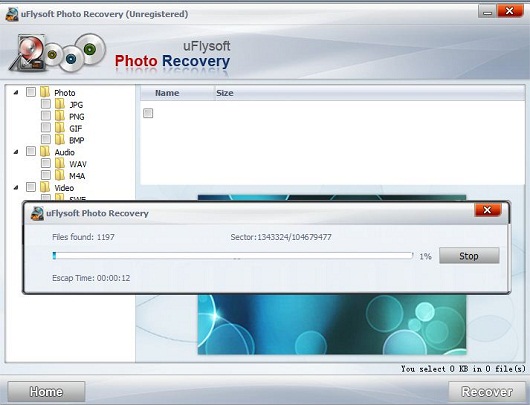 Notes:
uFlysoft photo recovery will recover your lost photos by deeply recovering, so it may take some time to finish the scanning process.
You can 'pause' or 'stop' the scanning in mid-process. For better results, you should allow the scan to complete.
Step 3. After uFlysoft finishing scanning, find out the files you need:
Find out the target photos that you want to recover. Click 'Recover' to proceed to destination selection interface. Or click 'Back' to return to the partition selection interface.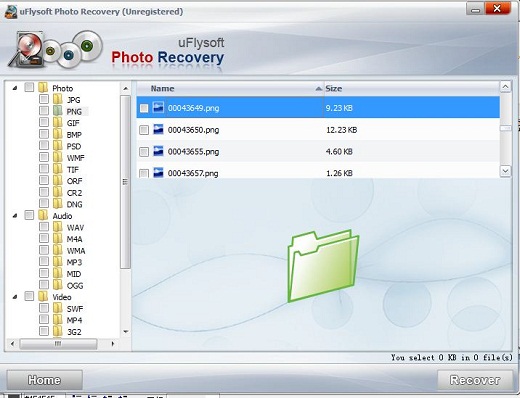 Click to preview the pictures to make sure the picture is the one that you need to recover.
Step 4. Click

button, then a dialogue box will pop up for you to select a destination to save the recoverable data.
Tips:
Select or enter a directory to store the recovered files.
We highly suggest you select another directory which is different from the source one, in case it would eventually overwrite the source data.