How to Achieve Disk Recovery for Mac OS X ?
Whenever you save files on the hard drive of your iMac, you are putting the data at great risk as well as for security. As you may come across many errors cause data inaccessible. And that's why disk recovery mac comes in need. Now let's figure out the errors and find ways to achieve hard drive data recovery.
Human Errors

1. Empty recycle bin or Trash.
2. Mistakenly format hard drive without backup.
3. Lose data after system restore.
4. Make a wrong operation on the existing partitions after installing a new operation system (like Mac OS X in Windows, or Windows on Mac OS X)
Hard Drive Errors
1. The hard drive is logically corrupted or crashed, unable to access the data or files.
2. The partition table is corrupted or damaged.
3. Hard drive becomes inaccessible due to virus attack.
There are still more reasons causing hard drive data loss. As a matter of fact, you definitely have chance to do mac disk recovery and there is no physical damage to the hard drive. Hard disk data recovery is enough to recover data from your hard drive.
uFlysoft Data Recovery for mac is the right choice for you to recover deleted, formatted, and lost files from Mac hard drive.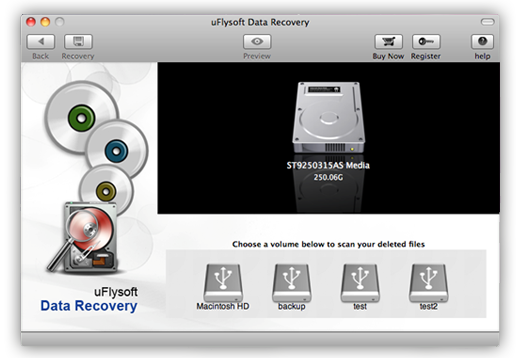 Tips for Disk Recovery Mac
1. DO NOT install uFlysoft Data Recovery for Mac to the same partition where you lost data for avoiding overwriting original data.
2. Before hard disk data recovery, immediately stop using the hard drive and put it in a safe place in case any physical damage may occur.
3. When you are taking hard drive data recovery software to recover files, better save the recovered files to another disk in case data overwriting.