Registry Cleaner for Windows
uFlysoft Registry Cleaner is freeware, the powerful combination of registry cleaner and system optimizer for Windows. Cleaning registry errors, removing junk files, running a registry defragmentation and system optimization, it can effectively speed up your PC and protect it from crashes, slowdown and errors. Make registry cleanup and system maintenance easier than ever!
• Totally free to scan, clean invalid registry keys and repair registry errors.
• One click to optimize your Windows system.
• Restore feature makes it more convenient and safe.
• Also serves as free uninstaller, sartup manager etc.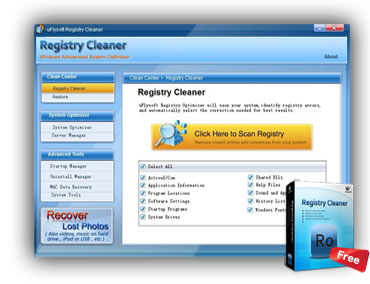 Fix problems when:
When
• Your computer is taking longer to boot
• Programs load slowly or are sluggish
• You get DLL errors or other program errors
• System crashed Constantly
Fix all registry problems
Problems
ActiveX OLE,COM Errors, left Uninstall Entries, Font Entries, Shared DLL Errors, Application Paths, Help Files, File References, Startup Items, Invalid Shortcuts, Startup files etc.
All-in-one Windows tool:
Tools
Windows registry cleaner, system optimizer, startup programs blocker, Windows uninstaller, system tools, server manager.
System Requirement
OS

Windows 98/7/me/NT(sp6)/2000/XP/XP64/2003/Vista32/Vista64

Configuration
1024x768 screen resolution with 16.7 million colors
Free HD
50MB above
RAM
128 MB above