Get Back File from Formatted Mac Hard Disk Drive
Many users will meet the word 'formatting' in their daily lives and will not feel strange with it. Some users will use it to solve some hard drive problems, but others who are not so familiar with the method that they use it wrongly and cause some problems, like data loss. Once formatting happens on hard drive, all of the files which were stored on the hard drive will be 'erased', user cannot find any one of the files.
Is that true? Are all of the files have gone? Actually no. Formatting will not do the process which smash all the files. All of the files are only not readable and cannot be shown on the hard drive currently. Also, the data cannot be read, cannot be used, cannot be copied or deleted, but if you have formatted Mac data recovery software, you can restore the lost data and do any operation you want to do with the data.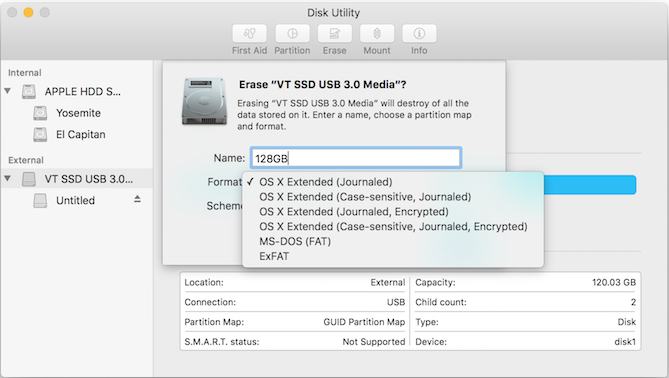 Steps for Recovering Mac Formatted Hard Disk Drive Data
uFlysoft studio offers one of the most trustworthy data recovery for Mac OS X-uFlysoft Mac Hard Drive File Recovery. This software can succeed in recovering all the files from the hard drive which has been formatted. Office document like Word, Excel, media files like photo, video and audio, emails, .txt files, etc can be retrieved successfully by using this software. What's more, this software offers users the easy-to-use option, users only need to do some click jobs by using the mouse to choose the files which they want to restore. The whole process is quite easy, quick and smooth, bring the excellent UE (user experience) to users, but no need to operate any difficult or complicated process. So Mac users no need to worry about Mac data loss after they get this software.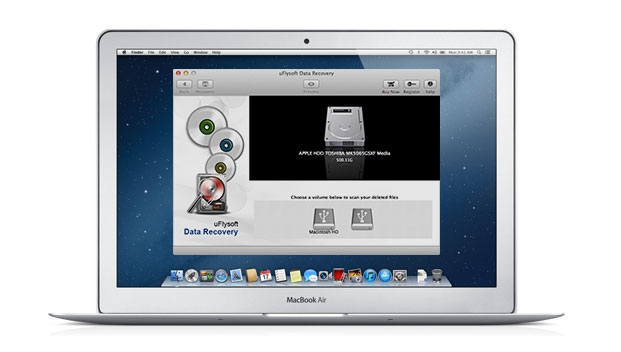 Step 1-Install the Software
Many users may have doubted at this beginning-I think to install data recovery for Mac software is just a piece of cake for me, why you need to list this in the first step of data recovery operation?-Actually, this step is very important. As we all know, Mac hard drive is different from Windows PC hard drive-it has no partition. In a simple explanation, Windows PC has these 'C: ', 'D: ', 'E: ', 'F: ', etc while Mac only got one. So this will make users store their files in one path. If users keep doing read/write process after data loss happens, the data overwritten will be easily caused. And once this situation has been caused, it will reduce the chance of data recovery, even worse, users will lose the chance to recover lost data. So when users are installing this software on their Mac, they need to follow all the steps which are offered by the software guidance but not choose the steps by their own. This point is very important and hopes users can pay more attention to it.
Step 2-Choose the Hard Drive/Storage Device to Scan
After installing the software, run it. Users will find that the hard drive or storage device they plug will be shown at the bottom of the software interface. At this moment, users can choose the hard drive/storage device which the lost files were stored before and move the mouse to click button 'Scan' to process deep scan operation.
Step 3-Preview and Recover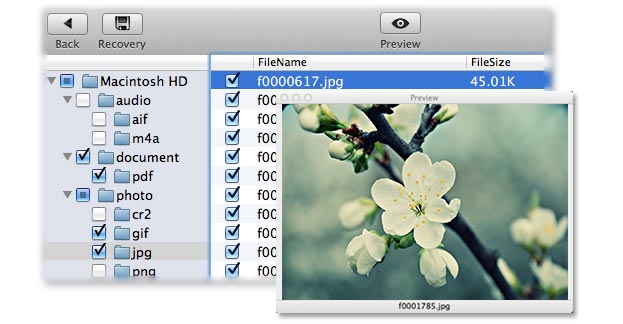 After scanning is finished, the software will show a list on the software left side which includes all of the found files. Users can choose one of them to preview (only photo files can be previewed). After making sure it is the file which needs to be recovered, users can tick the little box in front of the file to choose it, and then click button 'Recovery' to run the recovery operation. After a while, you will see the file is restored successfully.
Note: To avoid data overwritten situation, our software will remind users don't save the recovered data on the drive/storage device which the lost data were stored before. (and our software will not allow to do that operation.) So users need to use an external drive or other storage device which has enough space for storing the perform Mac hard drive file recovery.
Useful Tips about Formatting and Other Notes
1. The reasons why users need to format their hard disk drive are that they want to free up more space so that they can make good use of it, or they want to remove some errors which happen on the hard disk drive. As we mentioned above, formatting will not remove or erase the data on the hard disk drive forever. But this is based on which formatting method you are using. Basic formatting is the normal one which can be seen or be used in daily life. This operation only deletes some useless information on partition but will not lead to any data loss situation. But the low level will make data loss happen, but don't worry too much-normal users seldom use this kind of formatting method.
2. If users have backup of files, they can easily solve data loss problem which is caused by formatting. But if not, users have to recover lost files by using data recovery software.
3. Backup is one of the best methods to protect files from data loss problem. So just back up the files regularly on a storage device or on cloud service.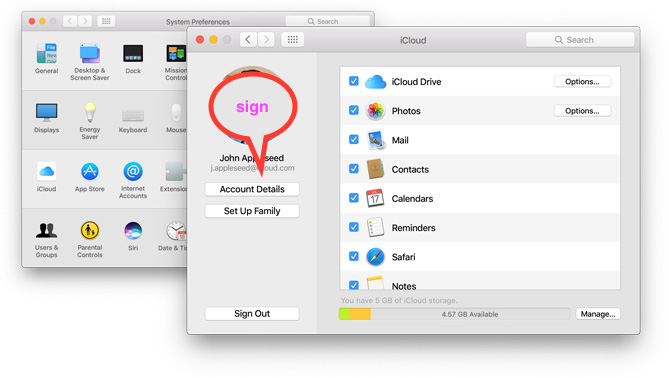 Data Recovery Q & A
Q: I've accidentally formatted a hard-drive in disk manager to blank, any chance of recovering the data?
A: Data recovery is not difficult for normal data loss problem, but if the hard drive is damaged, then the first thing you need to pay attention to is fixing the hard drive. But you need to notice that after fixing the hard drive, all the files are gone and it seems like it is a new hard drive. At this moment, don't put any new files into the drive 'cause if this happens, you will meet data overwritten situation and if this happens, the chance of data recovery will be reduced.
1.First and foremost, stop using the drive for anything. Otherwise, you will begin overwriting information you are trying to recover. To attempt this yourself, you first need to put the drive back the way it was so it will show up in recovery software. Both options below require the drive to be formatted as a Mac partition..
2. Time Machine would only help you in the future. Is your Mac set up with Time Machine? If so you should be able to recover the lost data that way. Click the Time Machine icon in the dock. Then go back to before you deleted the files, they are probably still available.
There's How to use Time Machine to back up or restore your Mac. https://support.apple.com/en-us/HT201250
If you don't have a Time Machine backup yet,Maybe you can try uFlysoft Data Recovery for Mac, it can recover your lost data on Mac only in three steps.
Q: Ways to avoid document Unsave or Corruption disasters
A: Actually,
there're two principal functions of the Word application that can avoid this issue. Users can try "Autosave" or "Autobackup" functions in Word application so that the Word document can be stored automatically.
Q: Only Mac data recovery software helps to bring back lost files? No free way?
A: Actually, there's no free Mac lost data recovery software on the net. But if the folders haven't been deleted from Mac trash or users already have Time Machine backup of the files, then users can recover them at anytime. If so, there is no need to try uFlysoft data recovery software, though it's really useful.
Actually, due to the special features of digital data, the deleted files (even if users empty Mac trash) will be marked as inaccessible on the Mac hard disk drive. But if they're overwritten by new files, it'll be impossible to get them back.
So users need to remember to stop using the Mac or the storage device at once to avoid overwritten situation to reduce the damage of data loss.
Users can also see the video tutorial below to get the easy steps.